Ramsey Island and Caerfai Camp form part of the important prehistoric coastal landscape of St David's peninsula which boasts at least twelve coastal promontory forts including the impressive Clawdd y Milwyr on St David's Head.
Ramsey Island is separated from the mainland by the treacherous Ramsey Sound to the west of St Davids. The history of human interaction with the Ramsey can be traced back to the Bronze Age period over 4,000-5,000 years ago through the presence of round barrows, cairns and field boundaries across the island. It was also an important place during the medieval period where it was known in legend as being burial place of 20,000 saints. The two chapels of St Justinians and St Tyfanog's are also recorded to have been located on the island during the medieval period.
CHERISH has used Airborne Laser Scanning (ALS) and Historical aerial photography to identify and map all visible archaeological monuments on the island in order to improve and expand upon the existing monument records for the island.
The promontory fort site of Caerfai Camp (possible translation: blamed walled city) occupies a very large and visually dominant natural coastal promontory approximately 1.3km to the southeast of the city of St David's. This site is unique in the way that is occupies the tip a long natural promontory that protrudes around 500m into St Bride's Bay where it would have been extremely visible to past seafarers. The site is made distinctive by its heavily eroded 'chasm' which over time has eroded to create a sub-rectangular parcel of land connected at the very tip of the long natural promontory. Running parallel to the chasm on its northern side is a series of four banks and ditches which were constructed and adapted throughout the prehistoric period. Interesting is the way that the constructed defences appear to respect where the erosion has occurred.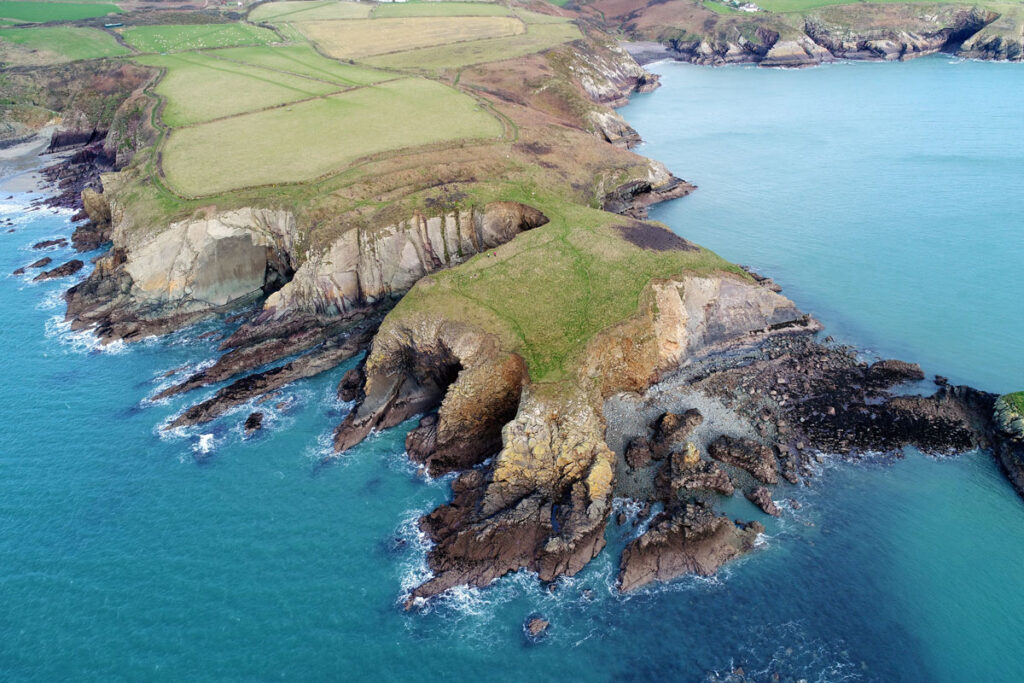 Coastal erosion has had a noticeable impact upon the archaeology in this region, especially at Caerfai where there a considerable amount of the site has been lost to the sea. Archaeological and paleoenvironmental research of this area will also draw wider conclusions about regional patterns of climatic variability in the past as well as identify the main processes causing the erosion